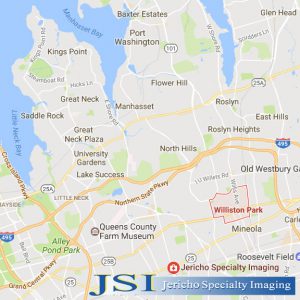 In Great Neck and in need of the latest radiology imaging services? Jericho Specialty Imaging offers everything from MRIs, X-rays, and ultrasound to EKG and Echocardiogram services. Our board-certified radiologists and dedicated staff members use the latest technologies and offer the most comfortable experience to give both patients and physicians an individualized and caring service.
The staff at Jericho Specialty Imaging includes experienced nurses, certified technologists, and board-certified anesthesiologists who perform in-office sedation. There is also an on-call phlebotomist who can assist with autistic and behaviorally challenged patients.
Our imaging facility is relaxing and comfortable. We cater to unique situations such as patients who suffer from claustrophobia (using an open MRI) and we make provisions for patients who are experiencing stress or anxiety and require extra care.
Why come to Jericho Specialty Imaging for radiology services from Great Neck?
Compassion
Comfort
Precision
Advanced technology
Training
Experience
Attention to detail
Fast turnaround
Special services
Book Your Radiology Treatment or Scan Today
Our radiology facility has pledged to lower radiation doses when possible and aims to eliminate any unnecessary scans. Whether you are a new or a repeat patient, our goal is always to make certain that you receive the attention and care you deserve. When you come to us for radiology imaging services, you can expect accurate and timely test results to ensure that you get the treatment you need as quickly as possible.
Schedule a radiology appointment for Great Neck residents at Jericho Specialty Imaging now.